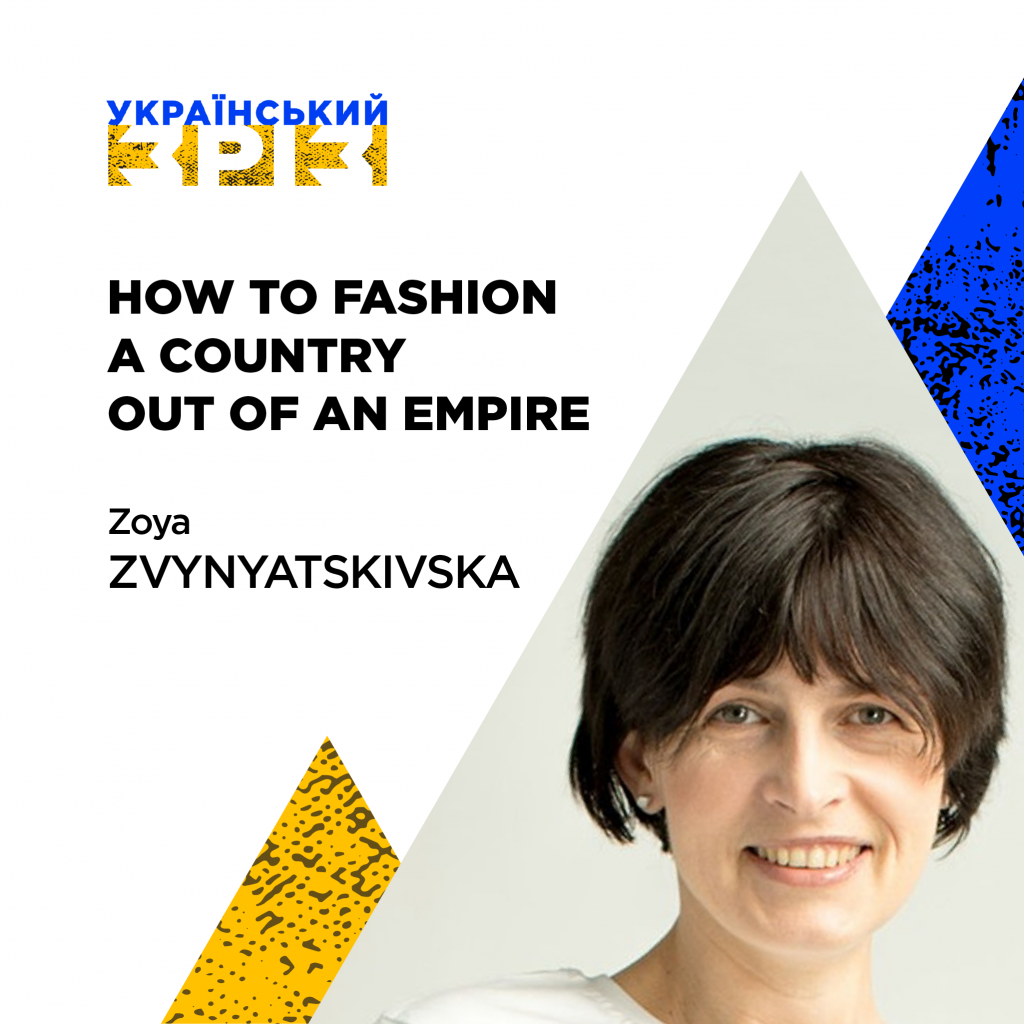 Usually, I reach the height of my media popularity as a fashion researcher once a year on Independence Day. TV and radio programmes, websites and blogs want information about Ukrainian fashion, since it's an easy and extravagant topic, often associated with celebration. Analysing various invitations and requests, year after year, I have observed how Ukrainians instrumentalise fashion. In other words, I see what society's requests of fashion precisely are.
Qualitative changes came with the Revolution of Dignity. Before, I was commonly asked what one should wear in the new season. But in the nine years after Euromaidan, requests changed radically. Just after the revolution, there was a huge splash of patriotic fashion. I was asked, for instance, about the features of a sardak, a Carpathian (Hutsul) jacket. And each time I had to answer that I didn't have the slightest idea. Many wanted me to confirm the hypothesis that Ukrainian vyshyvanka, traditional embroidered clothing, is a unique civilisation accomplishment, which very soon would conquer the world's most prominent catwalks. Several years ago, I was asked to list today's Ukrainian designers who have broken through to European fashion and trade shows, and assess their future in the world fashion industry. After having organised a vast exhibition Ukrainian Fashion of the Independence Era, alongside a publication of the same name, I was asked to prepare a presentation on the last 30 years of Ukrainian fashion history and, of course, eagerly accepted the invitation. But, gradually, interest in this topic has diminished; this year's requests have reached another level.
The first request was the most obvious: wartime patriotic fashion (khaki-coloured vyshyvankas, T-shirts with printed memes, etc.) – an understandable and predictable topic. But there has been another, which is persistent and very specific. I have repeatedly been asked to sketch a history of visual manifestations over the last three decades that strengthen our otherness and difference from Russia – through fashion, of course. When independence was proclaimed, all of us belonged to the same 'Soviet people', more or less. But now we seem to be very different, actually, radically unalike. 'Maybe you could tell us how these differences appeared, how they became so numerous, what exactly they are, and what they mean (preferably with some entertaining examples).'
It makes sense, but it's not a 'simple' task. It's not only the methodology that's difficult. This is a very specific topic. To tell the truth, neither Ukraine nor Russia were previously great fashion producers. Both countries were provincial, both grateful users of global fashion metropoles, alongside dozens of other countries. The number and choice of consumer objects available were conditioned by different levels of wealth, conventions and significantly by the difference between the more discreet and colour-poor North, and the traditionally more vital and colourful South.
One can't respond by simply describing domestic ethnic fashion samples (which are, by the way, multiplying every year), because 'tribal chic' could be both an instrument of decolonisation, or an affirmation of one's agency, on the one hand, and proof of the ongoing exploitation of colonial stereotypes, on the other. This process is too complex and dynamic, and strongly dependent on the context and specifics of each case.
Even if the necessary approach could have been found and all cases analysed, it wouldn't have helped anyway, as the truth lies elsewhere. The 'difference' everyone is looking for is none other than a degree of emancipation from the metropole. People may want to know the modern history of our decolonisation through the optic of fashion, to not only hear it but also see it (if possible), but this difference doesn't manifest itself through styles or colours. Awareness, behaviour and reactions are what make a real difference.
Here are some telling examples:The dominant character leading Ukraine's fashion came top-down from the rigid Soviet fashion house system. The main USSR fashion house (known as a Moscow 'model house') was located on Kuznetsky Bridge. Twice a year, directors of all the 'republican' houses went there for instruction. They were told what people should and shouldn't wear for the upcoming season. (Rumour has it that the main Soviet fashion house's plans were 'inspired' by foreign fashion magazines, borrowed for the night from wives of diplomats and other women allowed to travel abroad.) Only after receiving 'prospective plans' from Moscow were local fashion houses allowed to begin their own collections, taking 'ruling' trends into account. Shoots for the Ukrainian fashion magazine Krasa i moda (Beauty and Fashion), issued quarterly in Kyiv, were only made by Moscow photographers, as their local counterparts weren't trusted to do such important work. It's no wonder that Ukraine still looked up to Moscow fashion after the USSR collapsed.
In 1995 the Ukrainian festival of avant-garde fashion Art-moda (Art-fashion) held its second event. The launch, organised the year before, had already proved a success for the Ukrainian fashion avant-garde, showing work from students to the collections of new stars on the Ukrainian fashion scene. However, at the successive closing ceremony, festive show organisers chose to showcase collections from Vladimir Mandrikov and Masha Tsygal (two young Moscow designers, resident at Ptiuch, the most fashionable club of the time, promoted by the magazine of the same name) rather than Oleksiy Zalevsky's models (which one might have expected, since the designer had won the previous year's competition). Exactly these Russian designers were chosen as guest stars of the Ukrainian avant-garde fashion festival, their collections were demonstrated on the closing day, and they were the festival's VIP guests.
In 2002 the Ukrainian fashion week organised a special show in Moscow, where a collection of seven of the best Ukrainian designers was presented. The show resembled the first Italian fashion event after the Second World War, organised in the Pitti Palace, when Italians were trying to find their place in the industry: it took place outside fashion week in the Pushkin Museum rather than on a professional platform. As with post-war Italians, Ukrainians weren't brave enough to show just the collections of their designers. What they organised instead was a combined show to attract at least some response from Russian media. Indeed, it was a desperate attempt to draw Moscow's attention to the crème de la crème of Ukrainian fashion: 'Please look at us! We're trying so hard!' Actually, this attempt wasn't a total failure. It broke the ice for Ukrainian designers, who after that were often invited to take part in Moscow fashion shows. In 2000s' Ukraine, this was a sign of recognition and success.
A new era of Ukrainian fashion began in 2011 when a young generation of designers and spectators finally had their own fashion week. Special guests were invited such as Valerie Steele, a legendary director of the museum at the Fashion Institute of Technology, New York, and Alyona Doletskaya, who had resigned from the position of chief editor at Vogue Russia. While Steele's lecture received a lukewarm reception from the professional community, Doletskaya, who answered the questions of an eager audience in a patronising tone, had a full house. Even though the event took place in a large hall, many couldn't get inside. Such a situation seems unimaginable today.
In this modest essay, I can't cover all the cases that would show how Ukrainian fashion has strengthened and emancipated over the past nine years. After Euromaidan, Ukrainian designers began to cooperate directly with the West. The Ukrainian pop-up showroom in Paris in autumn 2014 became a symbolic start of this process. It was attended by the world's elite, including the 'almighty' Anna Wintour. And this story recurs: just a few days ago 17 Ukrainian designers presented their models at the Vogue UA Ukrainian Designer Showcase during Paris Fashion Week, where Anna Wintour was also present, demonstrating her excellent intuition on trends yet again.
Ukrainian designers win professional, international competitions. They take part in the main events of fashion weeks in London, Paris and New York, and present their collections at the Paris Haute Couture Fashion Week. Bella Hadid wears jeans by Ksenia Schnaider. Ruslan Bahinsky makes hats for Madonna, which she wears during fashion magazine shoots. The success of Ukrainian fashion designers seems to have made them indifferent to Russian contexts, to Russian media, events and perspectives. And it happened almost immediately.
But the idea of decolonisation processes is not just to exchange one metropole for another, to replace a failed empire with a more modern and powerful counterpart. To decolonize means to find yourself, to hear your own voice and, finally, begin to talk – firstly, with yourself. That's what is happening right now.
Since independence, although Russian had remained the language of Ukrainian fashion, there were some exceptions. Yeva (Eva), a Ukrainian-language fashion magazine, was first published in 1993 in Kyiv, where fashion circles were almost completely Russian-speaking. The Ukrainian Fashion Week, where Ukrainian was both the working language and that of PR, also stands out. But these cases were so rare that they seem to have been created on a whim, as if mere deviation. All fashion magazines in Ukraine – the fashion industry's equivalent of McDonalds, the high-street index on fast food – were published for years in Russian. Ukrainian Elle (2000), l'Officiel (2001) and Harper's Bazaar (2008) only appeared in Russian. And Vogue, the dream of any local fashion industry, published in Ukraine since 2013, was also written in Russian.
After the Revolution of Dignity, fashion magazines found themselves in an uncomfortable situation: reacting to audience desires, they eagerly wrote about Ukrainian fashion, about vyshyvankas and other traditional Ukrainian clothing, but they did so in Russian. Shyly and very slowly, Ukrainian began to appear on some fashion websites and social media sites: at first as an experiment, one day a week, like 'Ukrainian Tuesdays' on l'Officiel Ukraine. It took several more years for fashion magazines to also have Ukrainian versions.
Then it became mandatory: the Law of Ukraine outlines 'ensuring the functioning of Ukrainian as the state language'; according to Article 25 of the law, since 16 July 2022, all printed media in Ukraine must be published in Ukrainian. Decolonization became a state strategy. Therefore, since December 2021, Elle Ukraine's has been published in Ukrainian. And in February 2022 (isn't it symbolic?), the first Ukrainian-language version of Vogue Ukraine appeared.
All these changes have been met enthusiastically, with hundreds of spirited comments on social media: 'Finally!'; 'We made it!'; 'It should have happened long ago.' What a contrast to the situation ten years ago, when fashion magazines were Russian-language, and mostly because of editors' not so poorly founded fears that a change of language would reduce their audience.
And here we come to possibly the most evident and undoubtedly the most precious aspect of Ukrainian fashion's decolonization processes: the emergence of a new fashion consumer. This consumer made a long journey from contempt and disdain towards all things created and produced in Ukraine to admiration for Ukrainian fashion and trust in the domestic fashion industry. For these changes, a new generation had to appear. But not only that. Public awareness had to change too, alongside new priorities and a vision of one's place in the world.
This newly active and interested consumer is the best symbol and the most persuasive sign of inevitable change. Their position proves a difference from the former metropole – if it's at all still important. They are responsible and patriotic, and sensitive to information about the country of origin for goods. Young people no longer tolerate colonial narratives and demonstrate their views in every way possible. With 'likes', votes and their own money, they are determined to support their very own Ukrainian fashion.
______
This text was created specifically for the essay book UKRAINE! UNMUTED of Cultural Strategy Institute, which was published as part of the 5th triennial of contemporary Ukrainian art «Ukrainian Cross-Section» with the same-name UKRAINE! UNMUTED theme. Compiled and edited by Oksana Forostyna.
The project was implemented by the Cultural Strategy Institute together with the NGO "Institute of Contemporary Art" and "Virmenska 35" with the support of the Lviv City Council, ZMIN Foundation, the International Renaissance Fund and Lithuanian partners Kaunas 2022. Ukrainian Cross-Section was launched in 2010 and aims to present a cross-section of Ukrainian contemporary art and culture primarily abroad.