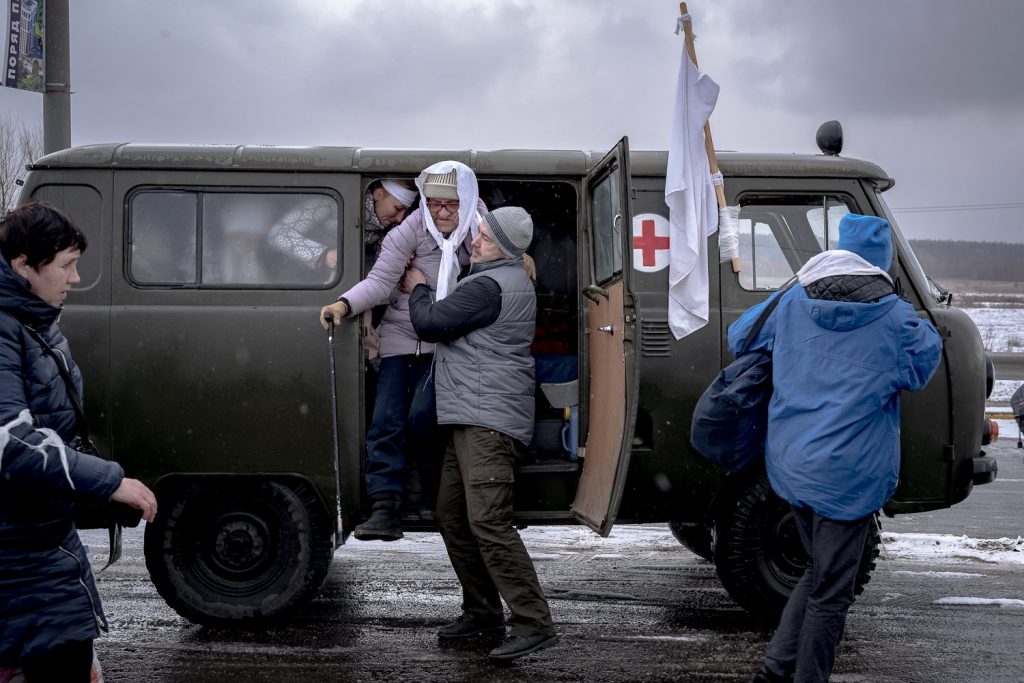 "Human is a duty, not a title"
these words belong to Vasyl Stus, a Ukrainian poet, translator, human rights activist, and active member of a dissident movement. For his civic position, defending the right of Ukrainian culture to development his works were banned by the Soviet regime and he spent 13 years in detention until his death in Perm-36, a Soviet forced labor camp for political prisoners, in 1985.
Reports of sexual violence involving Russian soldiers are multiplying
On March 22, Iryna Venediktova, Ukraine's prosecutor general, said in a Facebook post that a Russian soldier had killed an unarmed civilian and then repeatedly raped his wife in front of her underage kid. That is the first case in which a Russian serviceman was officially informed about the suspicion of violating the laws and customs of war. He was wanted and a request for detention was filed with the court.
One of the victims – Natalia – told her story to NY Times. It happened to her on March 9. First, the Russian occupiers entered Brovary (a city near Kyiv), where she lived with her husband and 4-year-old son. Then the villains broke the car, killed the dog, shot the husband and raped her three times. Miraculously, the occupiers did not touch their son – Olexiy. He hid in the boiler room and cried. But fortunately, he did not understand what the russian militaries were doing to his mother. Natalia managed to escape to Western Ukraine with her son and apply to the court.
Recently a story about victims in occupied Mariupol was revealed. The Russian occupiers raped a woman in front of her six-year-old son for several days in a row. She later died of her wounds. Her little son's hair turned gray. This is not a horror movie. Rape, violence, murder – that's what "Russian world" means, the Ukrainian Defense Ministry said.
In telephone conversations with relatives, the Russian occupiers admit that they rape children and eat dogs in Ukraine. This is stated in the intercepted conversation of Russians, published by the Ukrainian Security Service on YouTube. In one conversation, the occupier admitted that "three tankers raped a 16-year-old girl".
Of course, there are dozens more such cases. Due to the difficulties of communication and logistics in the besieged cities, many cases can not be qualified, in addition, the military often kills their victims after violating. "Law enforcement officers have data and open criminal proceedings over the rape of Ukrainian women by the Russian military in the occupied territories, but it is extremely difficult to gather evidence due to the inability to access the territories," said Prosecutor General Iryna Venediktova.
A message from Lviv City of Literature, a city of unbreakable poetry
Pavlo Koriaga & Bogdana Brylynska from Lviv City of Literature office open an important page of Ukrainian culture and history. This is a message about the unbreakable Ukrainian poets. Among these authors are Taras Shevchenko, who said "Battle on – and Win Your Battle!", Lesya Ukrainka, who wrote "I laughed, in order not to cry", Vasyl Stus, who knew "Human is a duty, not a title". The Ukrainians remember the main messages of their poets. And that knowledge inspires us to win! Here is a video in Ukrainian and English. A little earlier, Hanna Khriakova and Mariana Zagoruiko from Lviv – UNESCO CIty of Literature spoke to the community of Nottingham with a statement about war time in Ukraine and Lviv as a part of event – reading of Anastasiia Kosodii "Time Traveler's Guide to Donbass" play. "Today, here and now, we are creating a new history. The history of a strong country and nation, the history where life wins against death and light against darkness". Video is available here.
Culture from shelters and ruins
We start to get used to the state of permanent danger and trying to cope with the fact that in some regions of Ukraine people have to spend most of their time in shelters permanenty hearing how bombs are destroying their cities. What a damage that gives to people's minds and psychics. So that, to avoid the feeling of fear and to somehow try to love the life still given to us, culture plays it's main role to entertain and educate people, even those in shelters.
Kharkiv – UNESCO City of Music and Freedom
It's been less than a year since Kharkiv received the title of UNESCO City of Music. So far such a beautiful city, full of bright minds, is now experiencing its darkest times, but still continues to celebrate music, culture and life.
"Concert between explosions": Kharkiv Music Fest in Kharkiv Underground.
Kharkiv Music Fest is one of the biggest classic music festivals in Ukraine. A lot of festival participants, as mostly those are women, had to leave the country, but organizers thought that today it's extremely important to celebrate the eternal values, the beauty of our country and it's future, despite the horror we are experiencing now.
"That's the symbol that when cannons are speaking, muses are not silent, despite the saying (Inter anna silent Musae), muses are speaking", – says Serhii Politychiy, the director of Kharkiv Music Fest.
Cellos in bombed Kharkiv. A sound of fearlessness.
Cellist Denys Karachevtsev plays the violin in his destroyed city.
"I love my heroic city which is now struggling to survive the war. I deeply believe that we can help. I believe we can restore and rebuild our city and our country when the war is over. I am launching my project in the streets of Kharkiv to raise funds for humanitarian aid for those who are injured now and restoration of the city's architecture. Let's unite to revive our city together!" – says Denys
Video: https://youtu.be/lQHzO11LcKU
During the air alarm in Kharkiv violinist was playing, covering the sound of bombs. Vira Lytovchenko created an improvised stage in one of the city's shelters and plays violin when sirens start. She says that she's not going to leave the city so that after the war she could help restore it.
Comics from the city of Sumy have organized standup session in one of the city's shelters. As announced, they "gathered people to have a little fun and get led away from all that horror happening outside the window.
"Humor is a way of sublimation, – says Felix Redka, one of the comics. – When you're scared, you're joking. There are three reactions to fear: beat, run or freeze. We came up with the fourth reaction – make fun of russians"
Source: The Village Ukraine.
Ivano-Frankivsk drama theater on March 7th played "Eneida" right in time oа the air alarm in the shelter. Later the theater's administration mentioned that those plays are going to be regular and published a schedule for the next month.
In Kyiv underground Ukrainian films are shown. Those are the films of different genres and epoches – from All-Ukrainian photographic management to modern, which recently could be seen in the Ukrainian cinemas, such as "Best Weekend" or "Stars for Exchange". The organizers created a selection designed for audiences of all ages: from children to the elderly.
And the most important – life continues in shelters. Since the war started, 15300 child were born, 987 in Kyiv. Source: https://cutt.ly/aDP0sIE.
Every single life matters: saving animals in a wartime
During the five weeks of war in Ukraine, many animals appeared to be in the very heart of a war zone, in the temporarily occupied territories: in shelters, zoos, train stations, streets, locked in apartments.
For many pets are considered to be true family members. Owners are trying their best to save their beloved animals: mostly cats and dogs. Frightened animals hide with their owners in shelters, go on a long evacuation "journey" – by car, bus, train and even on foot. There is a well-known story of a family from Kyiv and their German shepherd Kulia ("Bullet" in Ukrainian), who is 12.5 years old. Providing the evacuation to the Ukrainian-Polish border was quite difficult for both people and the dog: it was difficult for Kulia to walk, she was constantly falling, disabled to get up on her own. So the owner of Kulia carried her for 17 km to the border in his arms! Currently Kulia settled in Poland.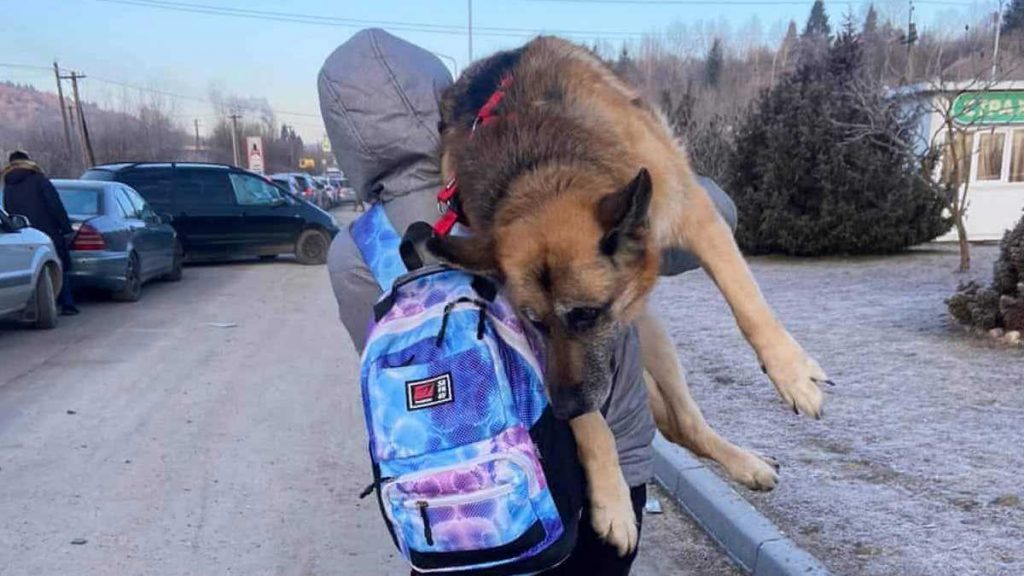 We also saw many photos of Irpin residents carrying their pet-friends in their arms during the evacuation. Many older people did not want to leave their pets. They save four-pawed animals – this is almost the only thing that people take with them into the uncertain future.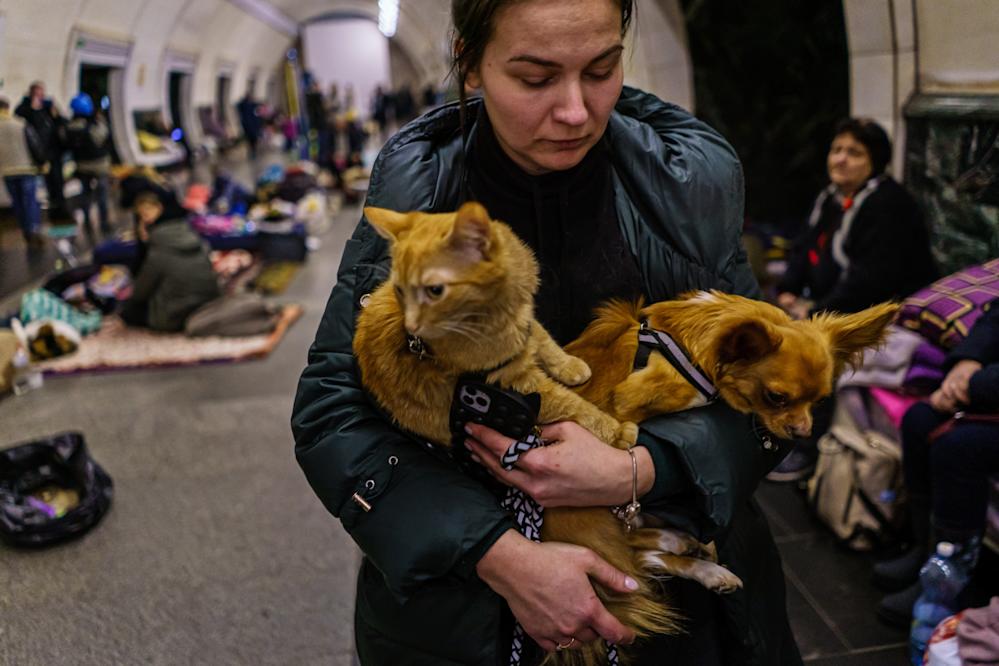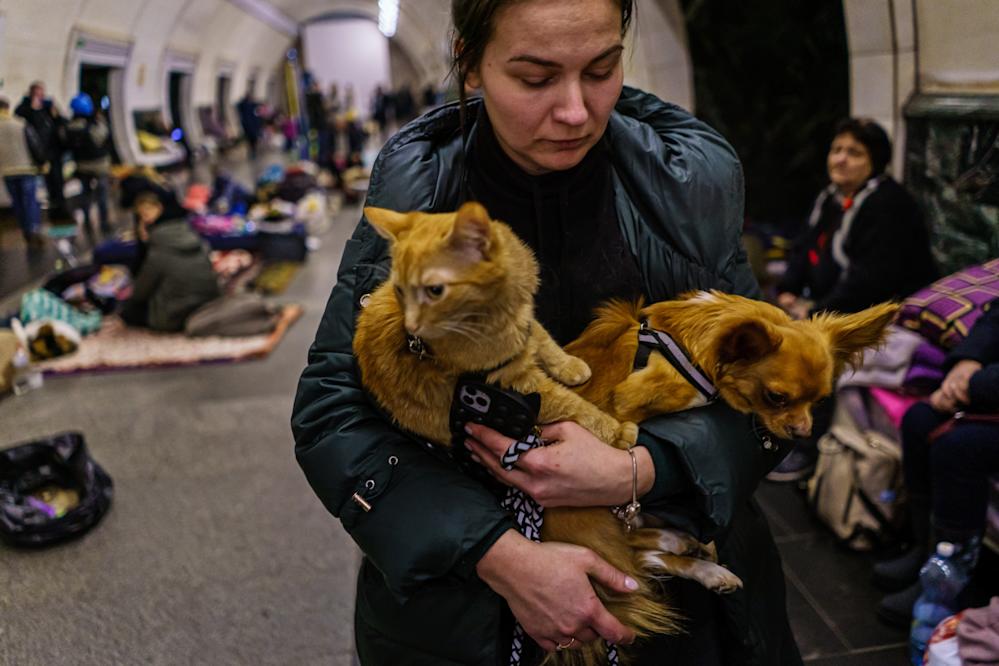 Probably everyone saw the story of Anastasia Tykha and Arthur Lee, who took 15 dogs out of war-torn city Irpin, including a disabled one, 5 cats, a chameleon, a turtle, a hamster and a spider. Before the war, couple used to pick up homeless dogs on the street, treat them, buy wheelchairs and look for families for them. When they evacuated, they took animals on the road, because, as Nastya says, "animals are like children to me – children can't be left on their own". Later the man and woman returned to Irpin for the lost dogs.
There were cases when the owners, fleeing from the dangers of war, left their pets in apartments. Zoopatrol volunteered to "liberate" the animal in Kyiv. That's the volunteering organization formed in the very first days of war. After receiving messages from the owners and neighbors about the animal indoors, volunteers break down the door (then brew it back), take it away, feed, and find shelter. At the beginning, Zoopatrul received about 700 applications: many animals were rescued, but there were also deaths, such as a parrot that was left without water. Ukrainian rescuers and the military are also finding animals among the ruins of bombed-out buildings and pulling them out of the fires. They say, "every life is important." Then the wounded animals are treated, apparently, they are scared of explosions, shelling.
A lot of large animal areas, which were attacked or temporarily blocked by Russian troops, found themselves in a difficult and dangerous situation. These are, for example, the Askania-Nova Biosphere Reserve (Kherson region), zoos and shelters in various cities, such as Kyiv, Kharkiv, and Mykolayiv. Animals are frightened, they lack food and water, they suffer from the cold (often no electricity, fuel for generators), and evacuating zoo residents, especially exotic ones (such as a giraffe or an elephant) in the current circumstances is quite difficult or unrealistic. Rescuing animals is often the work of dedicated zoo workers, locals and volunteers. Some animals were taken out. Good news about the evacuation of the beers from an animal shelter "Bila Skelia" in Kyiv region and about the evacuation of a kangaroo from the Kharkiv Ecopark recently appeared on the Internet. Eight kangaroos of different species were taken out – adults and cubs. Now the animals are safe, they are being cared for by volunteers and are being prepared for further transportation. Video.
One of the forms of support of the Mykolaiv zoo available to everyone is buying the entrance ticket. This zoo, established in 1901, has survived both World wars and has never stopped its work. And this time it will work for the benefit of animals as well, workers say.
Also animals can help other animals! This way, Ukrainian blogger-cat Stepan @loveyoustepan (1,2 million subscribers) from Kharkiv gathered $10 035 for supporting Ukrainian zoos and zoo organizations. Stepan is evacuated and currently lives in France. There are even more organizations for helping animals in Ukraine: Ukrainian Rescue Appeal, Happy Paw, and also UAnimals — humanistic movement for animal rights, which raises funds for point assistance to shelters and rehabilitation centers, purchases food and medicine, organizes the evacuation of animals, etc. (donate here). More info in Ukrainer material (in Polish, Spain, other)

CultureHeadquarters / Lviv
Cultural Strategy Institute
Lviv City of Literature
Hnat Khotkevych Palace Of Culture