How the body becomes architecture: a performance in the monument of modernism
The international project Modernism for the Future 360/365 (MoFu), which aims to rethink and actualize the heritage of modernism, consists of 14 art residencies in four cities: Kaunas, Brno, Kortrijk and Lviv. One of the residences has just been completed – a creative interpretation of the space of the Trade Unions' Building in Lviv through the modern dance practices. The performance was performed by a dance group from Kaunas NUEPIKO consisting of Marius Pinigis, Andrius Stakele and Adrian Carlo Bibiano. The artists involved local dancers to work with the object: Yulia Skyba, Vita Vaskiv, Khrystyna Skorubska. The final presentation took place on June 12 and gathered about 100 spectators.
In our conversation with NUEPIKO – about the senses that help to create a dance between architecture and residents, about the similarity of Lviv and Kaunas and about a unique opportunity for contemporaries to "catch up" with modernism.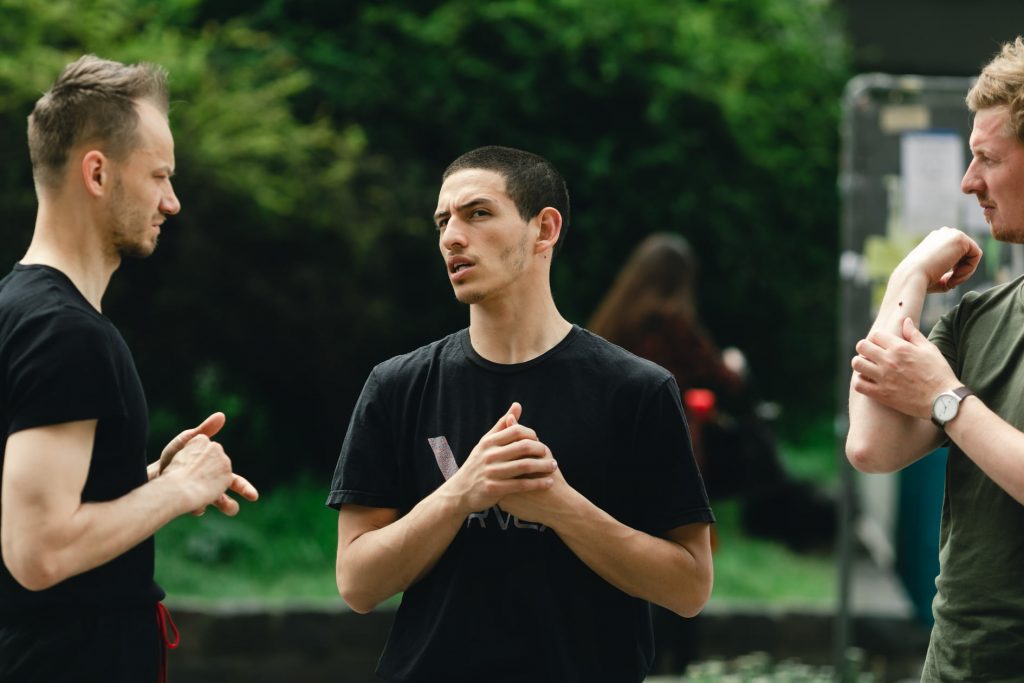 – What inspired you to work with the legacy of modernism?
Marius Pinigis: Our love for modernism was nurtured by Kaunas, a permanent place of our work: there is a rich modernist architecture, and the attention to it has grown a lot over the last five years. This was facilitated by the program "European Capital of Culture 2022" [Kaunas as a city with the status of European Capital of Culture will implement the program next year. From 1919 and for 20 years, Kaunas was the "temporary capital" of Lithuania, which greatly influenced its development, including cultural one. Thus, modernist architecture is a symbol of the capital, progress and prosperity of the city – its rethinking is one of the focal themes of the program "Kaunas – European Capital of Culture 2022"], environmental work and private investment: they began to renovate houses, returning them to original appearance – and now everyone can see how beautiful they are. In Soviet times, these buildings stood empty. The value of modernism has been actively discussed in public, and thanks to this discourse, we have come to better understanding how we can get involved and create projects related to this heritage. In Kaunas, the field of culture re-actualizes modernism not only through architecture, but also through the visual arts and contemporary dance, because Kaunas is a city of contemporary dance. A lot of open-calls have appeared, and that's how we got into this process.
– What are your impressions of Lviv? Is this your first visit to the city?
Marius Pinigis: I have always wanted to visit Lviv, which I knew only from photos, so our choice between the three cities (there were also Kortrijk and Brno) involved in the MoFu project was univocal. Lviv attracted with its Western European appearance and atmosphere. We really do like the people here as well as the fact that it is not the capital. The second or third city after the capital (Kaunas is also like that) is more modest, more cozy, it seems that people here are closer to each other. I have been to Kyiv several times – it is completely different.
Adrian Carlo Bibiano: I was surprised that Lviv is very similar to Mexico City! With its architecture, colors, as well as with the fact that there are also modernist buildings – in Mexico City, however, this heritage is still ignored. I felt at home, and it's very strange, because it's the other end of the world!
Andrius Stakele: Lviv resembles Kaunas, and some streets are like Vilnius. Here it is almost like in Lithuania.
Adrian Carlo Bibiano: We all feel at home here (everyone is laughing).
– Tell us, please, how you work with the place of residence – the Trade Unions' Building and what impression it made on you.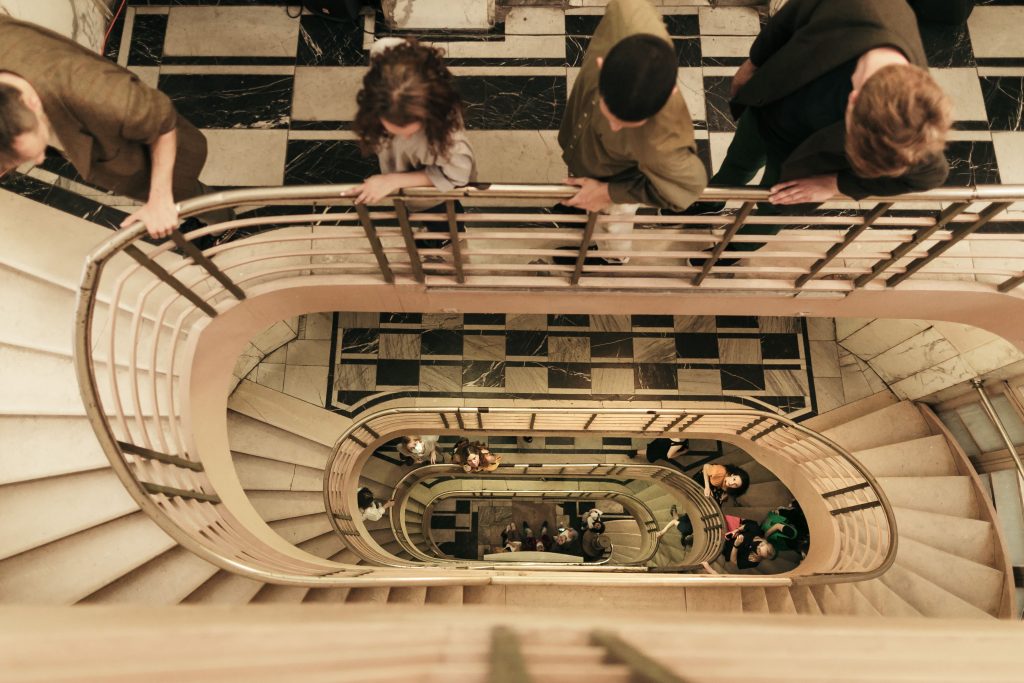 Marius Pinigis: We are not just trying to "fill in" the Trade Unions' Building with body, but also to take into account the history of the building and the general context. It adds meanings and weight to our work, makes it more complex and more valuable. It is clear that in a short period of residence we cannot and should not create a complete product-performance, but we can have enough time to do such research and take into account the details. Myroslava Liakhovych, a researcher of interwar modernism, gave us a detailed tour of various modernist sites in Lviv and the Building itself.
When you listen to the history of this region, it seems that it is the history of Lithuania. Some events and processes took place simultaneously, both countries had relations with Poland and formed a certain attitude towards it. And in general one can feel a connection, a brotherhood between Lithuania and Ukraine, which, if we believe in it, becomes very tangible and almost material. I think it has to do with history. It is interesting to put this knowledge into our creative process.
Adrian Carlo Bibiano: I would like to emphasize that we do not present dance in the usual selfish way: "the focus is on the virtuoso". Instead, we look for opportunities to combine bodies with architecture, use them to work with the perspective of the viewer, actualize the scripts, images, interior of the building.
Marius Pinigis: We didn't just want to come to the house and put on a play there. In this case, everything revolves around the dance itself – it becomes as if autonomous from the surrounding space. Our goal in this project is to help a viewer to see the space in a new way, not to impress with the virtuosity of the movement of our bodies. But it takes time to see it. Time is more than precious now: everyone is constantly in a hurry. So we use slowdown mechanisms – repetitive movements, circular.
It is interesting how through dance and sound we can talk about history, about things that no longer exist. For example, the Trade Unions' Building once had an elevator, which was later replaced by a more modern one, and only the space in the center of the building remained from the old one. So we thought we could work with the movement up and down and emphasize our idea with a soundtrack. This is what makes the dance beautiful – you can see something that is no longer there. [During the week, residents recorded various sounds in the Trade Unions' Building, the so-called "voice of the house": the sound of an elevator, the squeak of railings and stairs, boiler rooms, voice echoes of Building workers and visitors, passers-by. The compilation of these sounds became the basis for a musical composition that complemented the performance, for instance it imitated a "phantom elevator"]
Adrian Carlo Bibiano: One thing that Myroslava Liakhovych mentioned seems very important to me: the architect of the Trade Unions' Building, Ferdinand Kassler, worked specifically on how natural light penetrates his building: the ground floor is the darkest, and the top floor is flooded with light. This path from darkness to light, from hell to heaven gives rise to many metaphors that we have worked with.
Marius Pinigis: It seems remarkable that in Eastern European countries, modernism seemed to be ahead of its time, contemporaries did not accept it, because it was very different from what was "before", it was too futuristic. Architectural forms resemble ships, possibly spaceships. Lviv and Kaunas are similar in that they preserved this architectural heritage during the Second World War, and now residents have the opportunity to "catch up" with modernism, because they understand what was incomprehensible a hundred years ago.
Projects such as MoFu provide an opportunity for citizens to pay attention to their heritage, for example, they can go to the Trade Unions' Building, which they, possibly, would never visit otherwise. Architecture is often seen only as an external form, and the interior can contain many modernist details, but few people take the time to get acquainted with it.
Adrian Carlo Bibiano: And it helps to preserve a unique identity and history.
– Your project has a participatory component – could you tell us more about it?
[Involving citizens and residents of relevant modernist houses in dialogue, collecting oral history or creating an artwork is one of the MoFu's priorities]
Marius Pinigis: We announced an open call, selected and invited three Lviv dancers to participate, because we think it is important to give local artists the opportunity to hear and think about their own history, which they maybe didn't know before or didn't have time to ask about it. Our joint work creates an opportunity to express and emphasize it.
There was also a logistical aspect: The Trade Unions' Building is quite large, so it could have been difficult to work with such a space for the three of us. We understood: if there are more participants, the result will be different, because each of us is important. We are glad that we chose this way. Our collaboration with Yulia, Vita and Khrystyna was not that we set the choreography for them, it's more about listening to each other, it's about the horizontal. Of course, at some points it was important to take on the leader role, because there are six of us in the project and only one week to work. But we talked a lot, and the fact of unity of Kaunas and Lviv through dance is also important.
We liked being in the company of Lvivites, because they are professionals, with education and a lot of experience, we have a lot in common.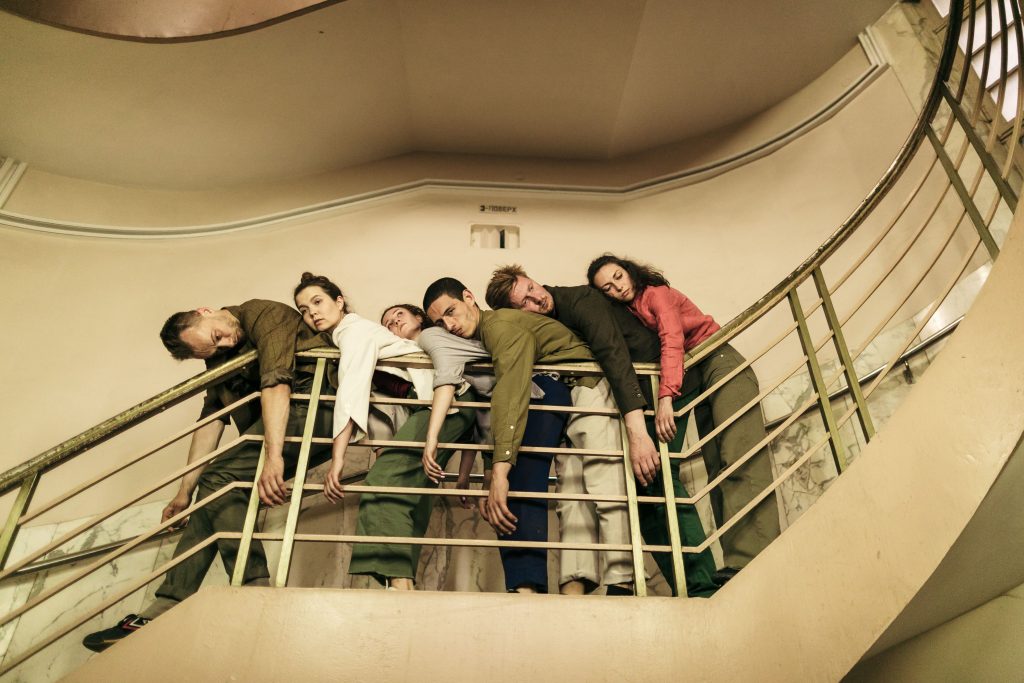 – Is this your first work with a focus on architecture?
Marius Pinigis: While working at the "Aura" dance theater, we danced a lot in different buildings, but there the dancer's body was subject to a bigger idea. Therefore, it became deindividualized and virtuosity became the most important feature: how high you can raise your leg and so on. I am more interested in conceptual work with architecture: how the body becomes part of architecture, how it affects the body and its perception. So in this sense we can say that this work is the first one.
Adrian Carlo Bibiano: My view of architecture is more about nature. Usually such works require a lot of research, information and time to "invoke ghosts" – to see something that is no longer there. The situation with Lviv was different: we have short deadlines, but the deadlinein such moments is good stimulation. I also look at the human body as at architecture: it has its own axis, symmetry and asymmetry, individual capabilities that are best revealed in teamwork.
Marius Pinigis: This is also the first work after lockdown in which we are together with dancers we have never seen or touched before. So when you're in a new space, with people you don't know at all, it's also a way to reconnect with your own architecture, with the outside world, through space and interaction, to feel your own axis more strongly.
– How did you come to modern dance?
Marius Pinigis: It is very difficult to talk about a universal path to modern dance. Most of the roads that lead people to modern dance, particularly in Europe, are very indirect. That is why this field is so rich in various life experiences, and each case is individual. For example, I studied at a humanities school that had a strong theatrical background. My brother also graduated from this school and became an actor. And for some reason I have become a dancer. Parents encouraged me to choose something "more serious" than art, because everyone knows that art will not bring money, there is such a social stigma. So I chose political science, I even got my master's degree, but during my studies I saw what they were doing at the "Aura" theater – and I was fascinated by it!
When I was at school, my idol was Michael Jackson (laughs). I studied his music videos on Viva TV channel and recorded videos in which I followed his movements. That's what I danced at the talent show at the university. There I was noticed by my future wife, an "Aura" dancer at the time. It was her who led me to the theater rehearsals, there was a shortage of dancers. What is fascinating that despite my choice of "something more serious", fate still brought me back to the theater.
The theater's chief director, Birute Letukaite, saw potential in me and promised to make me a professional. Of course I wanted that! I worked hard on the technique, quickly joined the main lineup, and then became one of the main dancers.
After a while, I realized that I wanted to develop further, and instead of choosing one university dance program, I decided to go the other way – I went to different workshops, long intensives of major European festivals and created my own program. I left the theater, became a freelancer, and three years later founded NUEPIKO. It's more of a dance-research company: we don't have a lead choreographer and participants who just "bring" their bodies. Everyone contributes in their own way: for example, Andrius writes music for our perfomances, Carlo deals with videography.
Adrian Carlo Bibiano: I was born in Canada – and that makes me Canadian. But I grew up in Mexico – and that makes me Mexican. My path to dance was similar to Marius's one: after folklore lessons at school, I chose dance as an additional specialization. Later, together with friends, I continued to study dance professionally, we formed our first, quite successful company – Compañia Medula. Later, I realized that I was most interested in dance, so I interrupted my university studies in psychology and decided to become a full-time dancer. Our experience is very similar – contacts, workshops, collaboration, networking, opportunities that create other opportunities. I was drawn to NUEPIKO after seeing three separate individuals working together without "cloning" [NUEPIKO was founded by three dancers: Marius Pinigis, Andrius Stakele and Marius Paplauskas]. I felt that we were similar in the fact that we work because we love dance, not just strive for achievement.
Andrius Stakele: Like Marius, I was not a professional. I was good at improvising and enjoyed dancing in nightclubs. One day a theater producer saw me dancing at a club in Kaunas and invited me to work at "Aura". Then I just needed to master the technique and that's it.
Marius Pinigis: Working with Letukaite in "Aura" was not easy, but was very demanding. There are still some things that cannot be accepted (for example, deindividualization of dancers). But despite the fact that Andrius and I left "Aura" eight years ago, we are still grateful to Birute Letukaite for her love of dance and the high level of professionalism that we now try to meet in our own projects.
In small towns, unlike capitals, modern dance must come to the audience, create its own audience, it is a bit missionary activity. It is thanks to the possibilities of residences in cities and towns that this art becomes more visible and understandable for the audience, which would otherwise prefer to go to a concert of a pop singer or a blockbuster in a movie.
Usually in dreams of travel and residence, most people think of, for example, Spain, the United States or China. Few will say that they dream of going to Poland or Ukraine or to Kaunas (laughs). This is also a certain stigma. But in our region you can find a lot of amazing things and make acquaintances for further fruitful cooperation, and we are glad for such an opportunity.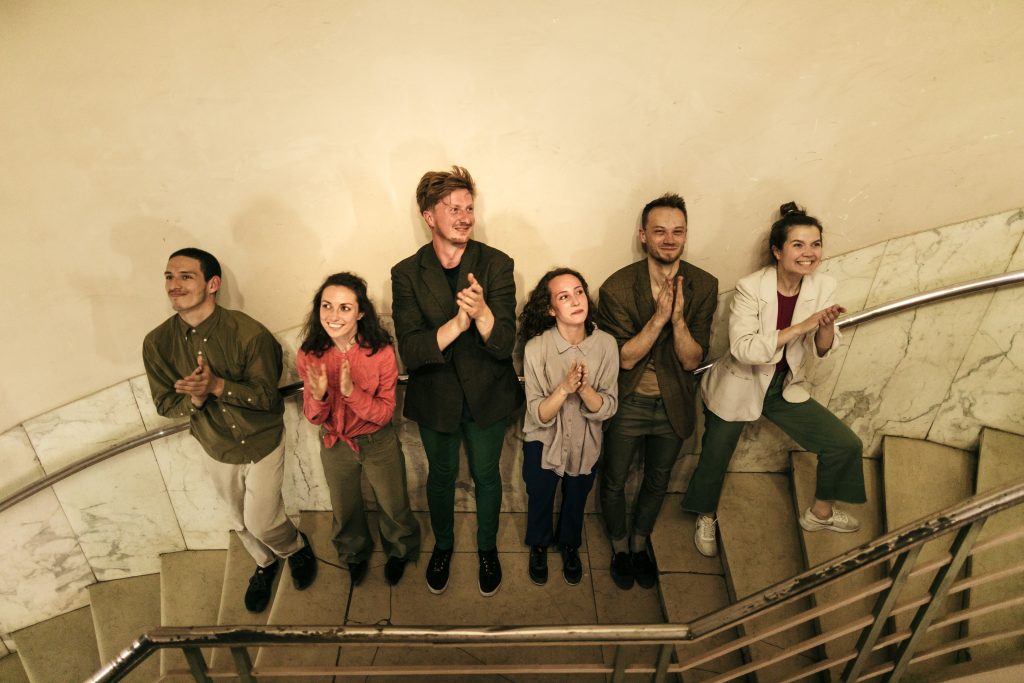 This material was prepared within the framework of Modernism for the Future 360/365 – an international project on (re)understanding and popularization of modernist heritage through art. There are 14 art residencies in MoFu partner cities (two of which are in Lviv: NUEPIKO in the Trade Unions' Building; artist Olha Kuzyura in the Gallets Building). Working with a specific modernist object or space, the artists offer their interpretation of modernism, heritage. These works can be seen in Kaunas in January 2022 at the exhibition, which is part of the program "Kaunas – the European Capital of Culture 2022". The MoFu project is implemented by Kaunas 2022 (Lithuania), Intercommunale Leiedal (Belgium), Vaizard (Czech Republic) and the Cultural Strategy Institute (Ukraine) with the grant support of the EU's "Creative Europe" program.
By Yulia Pivtorak
Interview in Ukrainian here: Zaxid.net